24 HOURS in Paris
In the words of Audrey Hepburn, 'Paris is always a good idea'. If you're heading to the City of Lights, our 24-hour guide will serve you in making the most of this glittering city.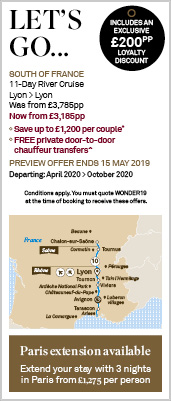 7:00am
Watch the sun rise over Jardins du Trocadéro
Located in the 16e arrondissement, the Jardins du Trocadéro lies across from the Eiffel Tower on the other side of the Seine, this is the perfect spot for a sunbathed panorama of Paris in all of its glory.
9:00am
Enjoy breakfast at Claus
Make breakfast a classy affair at Claus. With the French staples of buttery croissants, lip-smacking pancakes loaded with organic goodness and sweet pain-au chocolat, this truly Parisian menu is served with great coffee to boot, of course.
10:00am
Visit the Museé du Louvre
Just a five-minute walk from Claus you'll find the legendary Louvre Museum. Use their helpful audio guide to visit the highlights without losing your way, including the Mona Lisa, the statue of Venus de Milo and Michelangelo's Dying Slave.
12:00pm
Visit the Museé d'Orsay
A quick walk will take you to another
spectacular museum of Paris, the Museé d'Orsay. Formerly a train station, you'll find some of the world's best works from impressionist artists including Claude Monet, Vincent Van Gough and Pierre- Auguste Renoir.
1:00pm
Lunch at Marché Raspail
Head over to the famous food market of the Left Bank, Marché Raspail and enjoy an al fresco lunch. Delight in delicious lunchtime treats and soak up the distinctly French vibe of this traditional Parisian market.
3:00pm
Afternoon at Père Lachaise
A short train ride away on the right bank of Paris you'll find the resting place of some of the world's most celebrated artists. Père Lachaise is home to the graves of legends including Frédéric Chopin, Oscar Wilde and Jim Morrison to name a few. A walk through this tranquil cemetery is a humbling experience.
6:00pm
Segway Tour
Strap on your safety helmet and head out on to the streets of Paris on a Segway, for a guided tour of this romantic city at dusk. Ride around the twinkling Eiffel Tower, marvel at the opulent Champs Elysées and admire the spectacular architecture of Napoleon's tomb.
8:30pm
Dinner at Alain Ducasse au Plaza

Athénée
Indulge in the haute cuisine that Paris is famed for at Alain Ducasse au Plaza Athénée – the last word in French fine dining. This 3-Michelin starred restaurant will dazzle you with its Swarovski chandeliers and equally brilliant dishes.
11:00pm
Lido show with champagne
Words cannot describe the magnificence of a cabaret performance at Lido de Paris. The Bluebell Girls, the dynamic sets and the grand costumes work in tandem to take your breath away during the two hours of burlesque.
And if you're still not ready to say goodnight to this fabulous city, you can spend the night strolling the historic streets and bridges, uncovering Parisian secrets around every corner.